Redcliffe Hospital Accommodation
Whether you are staying in Redcliffe for short or long-term procedures through the Redcliffe Hospital or visiting family and friends, it's important that you have somewhere clean, comfortable, and quiet to stay nearby. During the week, the Redcliffe Hospital is notorious for a lack of parking, so you'll enjoy a short stroll across the road and leave your car parked in our secure carparks.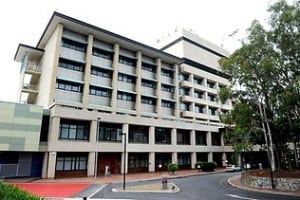 When your visit at the hospital is over, you can come home to a comfortable bed, quiet, sound-proofed room, block-out curtains (sleep during the day if you like), quiet air conditioning, and all the TV/wireless internet you could want. You'll find that your hosts are caring and compassionate, and will accommodate your needs as best as they can while staying in Redcliffe.
"Everything just perfect – comfortable, so clean and quiet! Thanks!"
– Jenny
About the Redcliffe Hospital
The Redcliffe Hospital is an unmissable landmark in Redcliffe, towering well above most other buildings, and situated on the busy ANZAC Avenue. Services covered at the hospital include emergency, rehabilitation, intensive care, general medical/surgical, oncology, urology, obstetrics, paediatrics, coronary care, orthopaedics, and more. With approximately 250 beds for overnight stays, the hospital is generally well equipped to service the Redcliffe and Moreton Bay region. Nearby hospitals utilised for transfers include the Royal Brisbane and Women's Hospital and the Princess Alexandra Hospital.
About the Peninsula Private Hospital
Peninsula Private is located in George Street, Kippa-Ring, Redcliffe. With medical, surgical, and rehabilitation units, the hospital offers 69 beds and a range of specialised staff. Parking is generally good, with on-street parking available when the main carpark fills up. Buses also regularly operate along this street. Amenities at the hospital include private and shared rooms, private bathrooms, air conditioning, television, phones, and a visitors' lounge.